Governor's office
HELEN, Mont. – To advance her initiatives as First Lady of Montana, Susan Gianforte, recently visited Kalispell and Townsend to recognize the outstanding work of Montanese in promoting science, technology, engineering and math education (STEM) and in promoting literacy.
"As I reflected on causes close to my heart, education stood above the rest," First Lady Gianforte said. "Every child in Montana should have access to the resources they need to learn, grow and thrive. This is why I am focused on promoting STEM education and improving literacy for young people in Montana.
First Lady Susan Gianforte speaks with a grade one student from Townsend Elementary School
On Tuesday, the First Lady visited Townsend Primary School on Tuesday to learn about her innovative work to integrate STEM education into the curriculum and promote literacy.
The first lady attended a freshman class and spoke to students about the importance of STEM education.
During class, students read "The Three Little Pigs". Then, using their budding STEM skills, they built a house out of toothpicks and dots for an imaginary pig. Their challenge was to build it strong enough to withstand the wrath of the huffing, puffing big bad wolf, played by their teacher's hair dryer.
"It is incredibly encouraging to see schools in Townsend using STEM to help their students learn to solve complex problems and build confidence," First Lady Gianforte added.
In honor of National Coding Week, the first lady last week honored young women from Code Girls United, an after-school computer science program, who were semi-finalists in a recent international coding competition.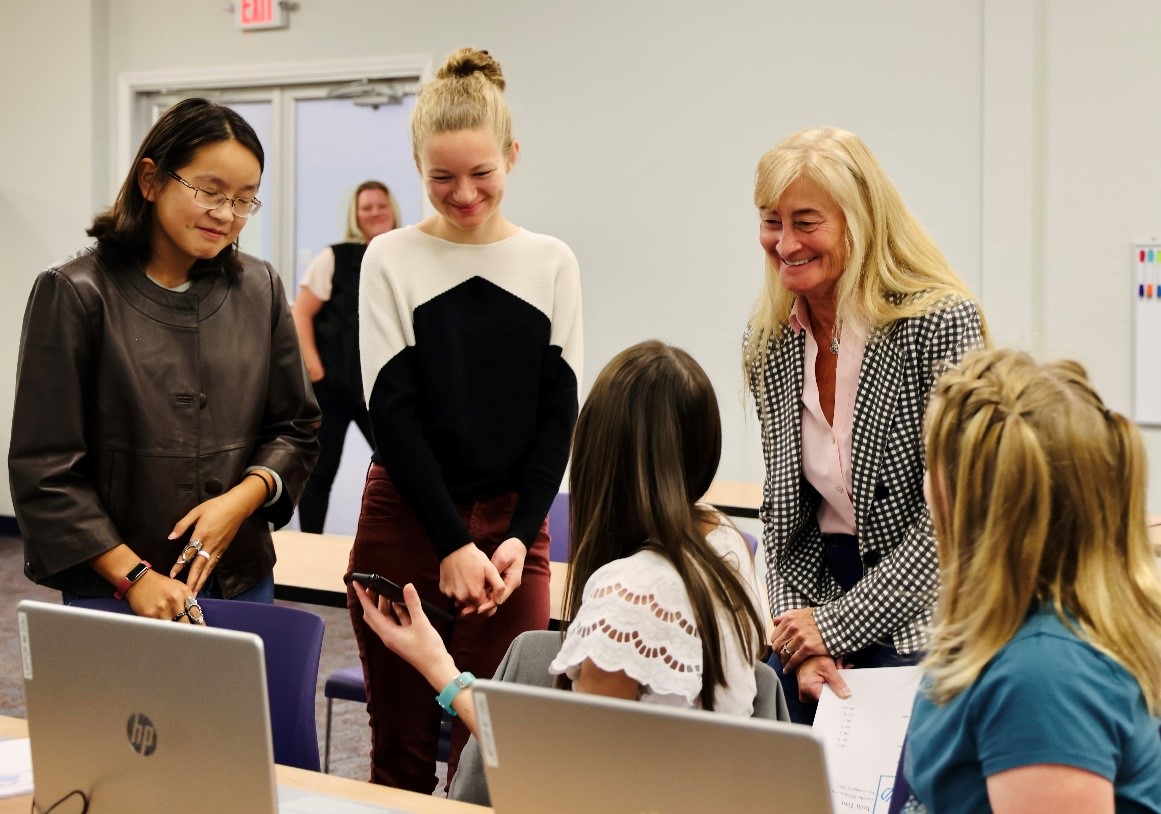 Code Girls United members share their app and ideas with First Lady Susan Gianforte in Kalispell
The members competed for the development of two separate applications. The first, called Found, was created by Isabelle Ashley, Emma Anderson and Makayla Davenport to address human trafficking and the missing and murdered Indigenous crisis. The second, called Communication Station, was created by Kiara Van Slayke, Maryn Hobby, Peyton Norris and Evangeline McCormick to help children make friends through non-verbal communication.
The first lady presented the young women with a Spirit of Montana Award for their accomplishments and positive impact on their peers.
Promoting and expanding access to STEM education, especially for girls and students in our rural communities, and boosting literacy to empower more Montana children are the first lady's initiatives.
###