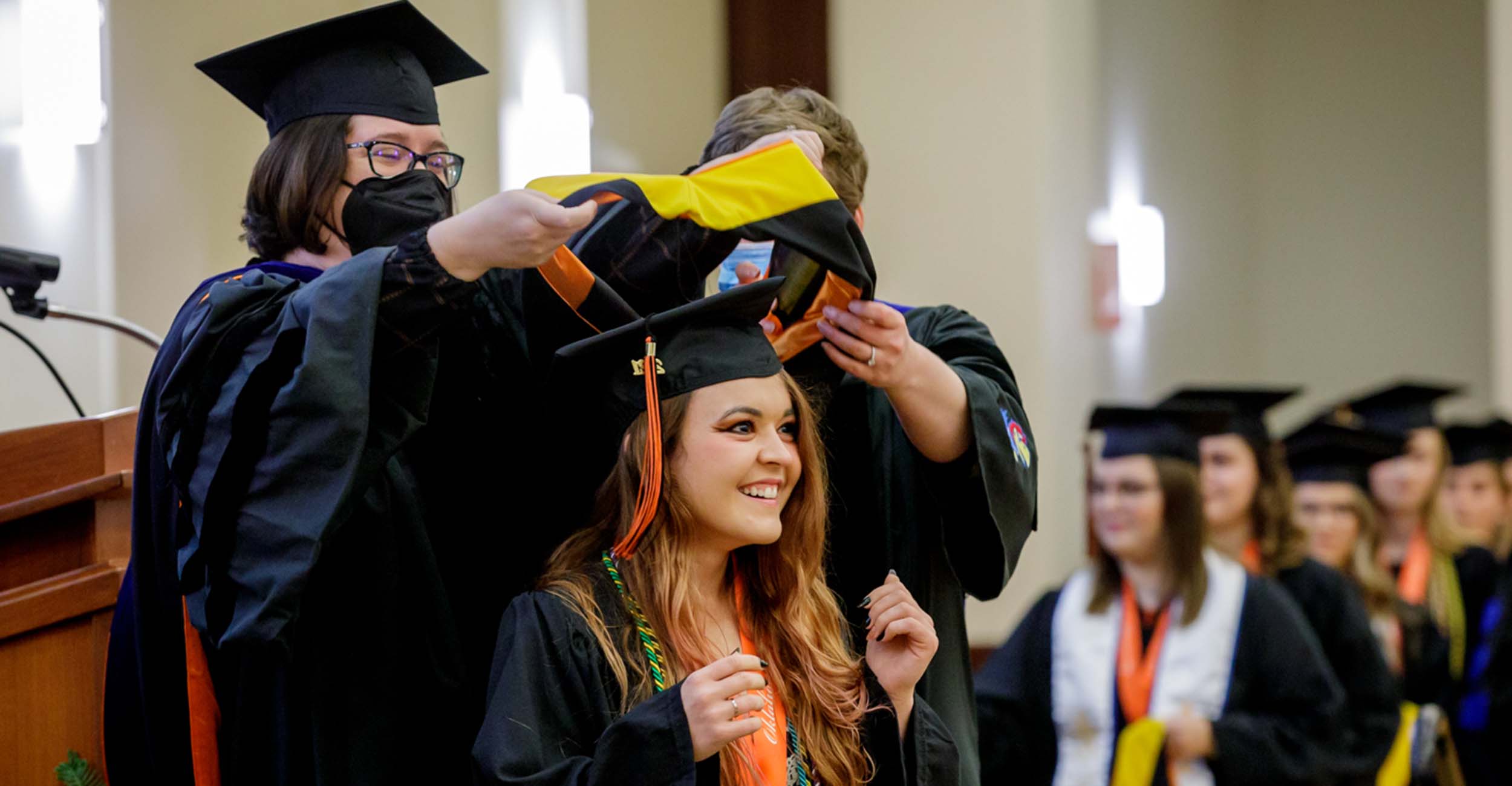 Friday, January 7, 2022
Media contact: Jordan Bishop | Communication specialist | 405-744-9782 | [email protected]
Oklahoma State University Honors College celebrated its fall graduates with a balaclava ceremony on Dec. 10 in the Students Union Ballroom.
Fifty-four honors graduates were invited to the ceremony, of which 25 were Honors College diploma candidates.
To earn the top OSU Academic Award, students must complete all Honors College degree requirements with a cumulative grade point average of at least 3.5. College Honors Students can also earn a General Honor Award and a Departmental or College Honor Award.
Photos of the laureates with President Kayse Shrum can be found here. For more information about Honors College, call 405-744-6799 or visit honors.okstate.edu.
Honors graduates and their diplomas are listed below.
Oklahoma
amber
Bailey Clawson – Applied Exercise Sciences – College of Education and Humanities
Collinsville
Tiffany Quiring – Zoology (Pre-Med) – College of Arts and Sciences
Emilie Tindle – History – College of Arts and Sciences
Edmond
Caitlyn Carlson – Communication Sciences and Disorders – College of Arts and Sciences
Zachary Elliott – Architecture – College of Engineering, Architecture and Technology
Dustin Galley – Architecture – College of Engineering, Architecture and Technology
Enid
Alanna Brehm – Architecture – College of Engineering, Architecture and Technology
Grove
Serah Reyes – Global Studies – College of Arts and Sciences
Hennessey
Malina Lemmons – Psychology – College of Arts and Sciences
Inola
Anna Turner – Recreational Therapy – College of Education and Humanities
Kingfisher
Addison Themer – Strategic Communications – College of Arts and Sciences
Locust grove
Rhett Pursley – Animal Sciences – Ferguson College of Agriculture
Lawton
Ryan Pruitt – Microbiology / Cellular and Molecular Genetics – College of Arts and Sciences
Mannford
Leigh Welch – Sociology – College of Arts and Sciences
McLoud
Kortni Smith – Animal Sciences – Ferguson College of Agriculture
Norman
Margaret Goodin – Industrial Engineering and Management – College of Engineering, Architecture and Technology
Oklahoma City
Molly Spencer – Fire Protection and Safety Engineering – College of Engineering, Architecture and Technology
Owasso
Paige Condren – Accounting – Spears School of Business
Purcell
Ashley Howard – Agri-Food – Ferguson College of Agriculture
Sapulpa
Morgan Klein – Animal Sciences (pre-veterinarian) – Ferguson College of Agriculture
Coffeyville South
Breck Gillespie – Strategic Communications – College of Arts and Sciences
Texhoma
Abigail Wackler – Psychology – College of Arts and Sciences
Tulsa
Riley Conner – Biochemistry and Molecular Biology – Ferguson College of Agriculture
Zachary DeGeorge – Chemical Engineering – College of Engineering, Architecture and Technology
Genesis Terrazas Valero – Biochemistry – College of Arts and Sciences
Jenna Landau – Communication Sciences and Disorders – College of Arts and Sciences
Bethany McVay – Microbiology / Cellular and Molecular Biology – College of Arts and Sciences
Out of state
Florida
Jupiter
Alexandra Pledger – Animal Science Biotechnology – Ferguson College of Agriculture
Ohio
Mills of the Kings
Kelsie Ballew – Psychology – College of Arts and Sciences
Missouri
Osage Beach
Haley Bradley – Strategic Communications – College of Arts and Sciences
Springfield
Claire Workman – Biology – College of Arts and Sciences
Texas
Conroe
Ivy Scharlach – Psychology – College of Arts and Sciences
katy
Dylan Hennig – Sports Management – Spears School of Business
Mckinney
Reagan Horan – Animal Sciences (Biotechnology) – Ferguson College of Agriculture
Aaron Katada – Mechanical Engineering – College of Engineering, Architecture and Technology
Richardson
Max Braht – Marketing – Spears School of Business